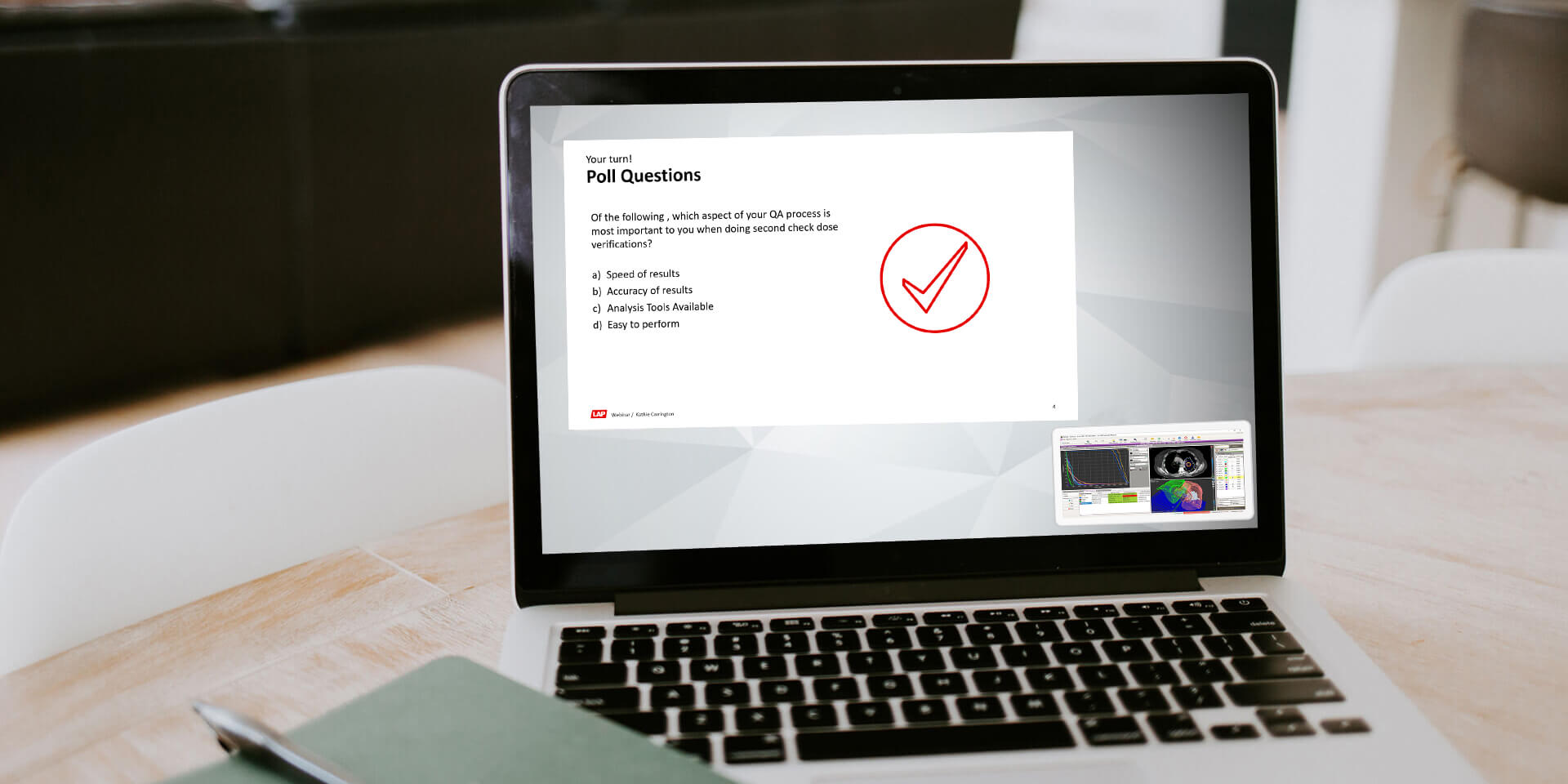 Throughout the whole year we offer webinars and interactive online session via different platforms. On this page you find all dates, registration links and information about our webinars. The ones that have already taken place and are available as recordings will also be listed. Explore our library of free webinars and navigate into our industry channels to view more. For virtual trade shows please also check our news and event section.
Automated patient QA using RadCalc software for helical tomotherapy treatments at the University Hospital Cologne
Topic: This webinar provides valuable insights into the setup, commissioning, and clinical implementation of the RadCalc software for automated Monte Carlo-based secondary check for helical tomotherapy treatments at a Radixact system. RadCalc has automated patient QA procedures, significantly reducing time spent at LINACs while benefiting from independent treatment plan evaluation. In the webinar, real experience at the University Hospital of Cologne will be shared as well as a performance evaluation using a database with several hundred clinical patient cases.
Speaker: Dr Florian Kamp, Head of Medical Physics at the Department of Radiation Oncology and Cyberknife Center (University Hospital of Cologne)
Date: 04 September 2023
Introducing the RadCalc Portal: a window into the future of your single-platform QA solution (RadCalc v7.3.1)
Topic: Learn how to find our newest releases, the importance of reading change logs, and how to best reach LAP for questions! Get to know the new automation features and new workflows with the RadCalc PortalbExplore how patient-specific QA in RadCalc goes beyond the secondary check to the machine performance and validation of the dose delivered pre-treatment and in vivo dosimetry. New Documentation will be discussed, as well as an updated tech support email address
Speaker: Carlos Bohorquez, M.S., D.A.B.R is the Product Manager for RadCalc at LifeLine Software, Inc., a part of the LAP Group
Date: August 02, 2023
Experience of transit dosimetry using RadCalc EPID
Topic: This webinar covers the use of RadCalc EPID at Raigmore Hospital in Inverness. Use of the system will be discussed along with examples of the types of problems that have been discovered, along with their resolution.
Speaker: Steve Colligan is head of radiotherapy physics at Raigmore Hospital in Inverness, Scotland. Having gained an honours degree in electrical and electronic engineering at the University of Edinburgh, he pursued an MSc in medical physics at the University of Aberdeen. After graduating, he worked in clinical scientist roles at both Walsgrave Hospital in Coventry and Raigmore Hospital in Inverness before being appointed to his current head of department role. In addition to maintaining a clinical role, he is actively involved in a number of the department's projects that aim to make improvements to the accuracy of treatment delivery using tools such as transit dosimetry and surface image guidance. His other interests include radiobiology and programming.
Date: 25 May 2023
RadCalc 7.2.3: Automating your end-to-end QA workflow
Topic: This webinar will cover the new features released in 7.2.3 of RadCalc. Carlos Bohorquez will walk you through the latest developments and explain how they impact your workflows. Learn how to benefit from new workflow features for complete end-to-end automation with RadCalcAIR. RadCalc is your all-in-one, end-to-end patient-specific QA solution with true 3D volumetric composite second check, pre-treatment verification, and in vivo absolute dose reconstruction using existing EPID on all conventional linacs.
Speaker: Carlos Bohorquez, M.S., D.A.B.R is the Product Manager for RadCalc at LifeLine Software, Inc., a part of the LAP Group
Date: 8 December 2022
End-to-end patient specific QA with RadCalc – why it is important to stay up to date
Topic: New features released in the latest version of RadCalc (7.2.2). These include new workflow features for intelligent automation with Eclipse Scripting and RadCalcAIR that delivers your report in Aria with a single click of the script within the Eclipse TPS. We will also be introducing LAP Academy and address a valuable topic: the importance of reviewing change logs and upgrading as new versions are released to ensure the highest safety and quality in the intended patient plans.
Speaker: Carlos Bohorquez, M.S., D.A.B.R is the Product Manager for RadCalc at LifeLine Software, Inc., a part of the LAP Group
Date: 21 April 2022
Clinical implementation of RadCalc's automated 3D collapsed cone secondary dose check
Topic: Experience in setting up RadCalc's dose engine, along with the hardware configuration he is utilizing within the hospital network, setup and use of the automation and hurdles discovered.
Speaker: Jason Paisley, MS, DABR is the chief physicist for Novant Health New Hanover Regional Medical Center in Wilmington, NC.Language: English
Date: February 21, 2022
This meeting has been approved by CAMPEP for 1 MPCEC hour and has been approved for 1 MDCB credit.
Using RadCalc to verify Gamma Knife treatment plans
Topic: Review the workflow and benefits of using the RadCalc Gamma Knife module to verify treatment plans.
Speaker: Kathie Carrington is director of applications and training at LifeLine Software, Inc. Company of LAP Group
Language: English
Date: December 10, 2021
Clinical experience on the independent dose distribution verification with RadCalc
Topic: In this webinar, Dr Ruoxi Wang will share experiences on performing 3D dose distribution verification based on the Monte Carlo Module in RadCalc.
Speaker: Wang Ruoxi, PhD (Major in Medical Physical Device Development), Medical Physicist
Department of Radiotherapy, Beijing Cancer Hospital
Language: English
Date: December 9, 2021
Introducing RadCalc 7.2 and its EPID Module
Topic: New features and benefits of the EPID module – learn how patient specific QA in RadCalc goes beyond the secondary check to the validation of the dose delivered pre-treatment and in vivo.
Speaker: Carlos Bohorquez, M.S., D.A.B.R is the Product Manager for RadCalc at LifeLine Software, Inc./LAP
Language: English
Date: October 28, 2021
A review of AAPM task groups 218 and 219
Topic: AAPM recommendations on patient specific QA with TG 219 and TG 218
In this webinar attendees will learn to understand the limitations for each of point, planar and volumetric secondary check processes, and algorithms (TG219) as well as the recommendations from TG218 with regard to IMRT QA and how pass/fail rates correspond to the delivery of the plans.
Speaker: Dr. Vimal Desai, PhD /Clinical Instructor/Thomas Jefferson University Hospitals
Language: English
Date: October 13, 2021
Intelligent automation with RadCalcAIR and 3D dose analysis
Topic: RadCalc AIR – automated import and reporting tool and 3D dose analysis with automation
Speaker: Jay Markham, CMD, application specialist, LifeLine Software, Inc./LAP
Language: English
Date: July 21, 2021
Automated QA in clinical environment - RadCalc set up for clinics and remote access
Topic: Learn how RadCalc can be set up and managed as a single installation as well as a multi-user or multi-institution structure. Find out about RadCalc's automated workflows and how physicists can benefit from them.
Speaker: Tamas Medovarszki, physicist and product specialist at LAP
Language: English
Date: June 2, 2021
MR-Linac verification with RadCalc
Topic:Learn about RadCalc's automated workflow and explore how RadCalc can improve accuracy, efficiency, and safety in the QA process for MR-Linacs Unity and ViewRay.
Speaker: Kathie Carrington, director of applications and training at LifeLine Software Inc.
Language: English
Date: February 23, 2021

Watch now!

RadCalc Monte Carlo and 3D Collapsed Cone subscription
Topic: Learn about the workflow of RadCalc 3D, the commissioning process and analysis and the benefits of a RadCalc subscription plan.
Speaker: Kathie Carrington, director of applications and training at LifeLine Software, Inc.
Language: English
Date: February 3, 2021
Maximizing QA accuracy & efficiency with RadCalc in a challenging environment
Topic: Workflow and working with RadCalc's 3D modules
Speaker: Dana Cooper, certified medical dosimetrist/technical sales representative, LSI/LAP
Language: English
Date: September 23, 2020

Watch now

Introducing the RadCalc 7.1 3D platform
Topic: Learn more about the commissioning process and analysis tools of RadCalc's latest version
Speaker: Dana Cooper, certified medical dosimetrist/technical sales representative, LSI/LAP
Language: English
Date: June 23, 2020

Watch now
Overview of RadCalc's 3D dose verification
Topic: Learn more about the latest RadCalc version and it's 3D functionalities.
Speaker: Kathie Carrington, dosimetrist/technial sales representative, LSI/LAP
Language: English
Date: May 29, 2020

Watch now